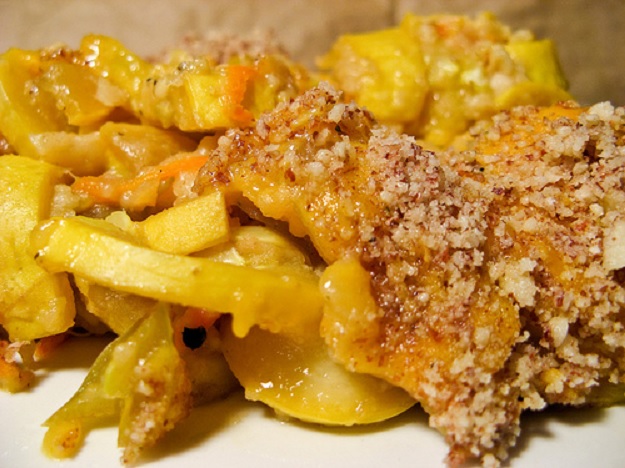 Yellow Squash Casserole
(This is a take off of my Scalloped Corn Casserole for those who cannot eat corn)
4 cups cut up yellow squash
½ large onion, chopped
35 Ritz Crackers crushed
1 cup cheddar cheese
2 eggs
¾ cups milk
½ cup butter, melted
salt and pepper, to taste
Directions:
Preheat oven to 400°
Lightly steam squash and onion  for about 5 minutes. Drained well. In medium bowl, combine cracker crumbs and cheese.
In large bowl, add drained squash and onion and gently fold in 1/2 the cracker and cheese mixture.
In a small bowl, whisk together eggs and milk and fold into squash mixture. Melt 1/2 cup of butter. Add half the melted butter to the squash mixture and mix again. Season with salt and pepper. Spread squash mixture into greased (PAM)  9 x 13″ baking dish. Top with remaining cracker crumbs and then  pour the remaining butter over squash.
Bake at 400° for 25 -30 minutes or bubbly and golden brown.