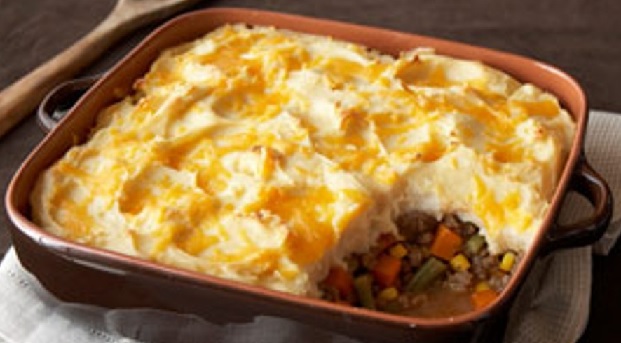 SHEPHERD'S PIE
1 lb. ground beef or turkey
1 can peas
1 can sweet corn
1 medium onion, diced
1/3 c. sugar
8 medium potatoes  (I use instant)
2 c. shredded sharp cheddar cheese
Boil potatoes, mash and season to taste with milk and butter or cook as directed on package.
Brown ground beef and onion with salt and pepper. When cooked, add peas, corn, sugar. Let simmer until heated through.
In 13×9 pan place meat and vegetable mixture in bottom of pan. Cover with mashed potatoes and sprinkle cheese on top.
Place in oven on BROIL until cheese is bubbly or light brown.