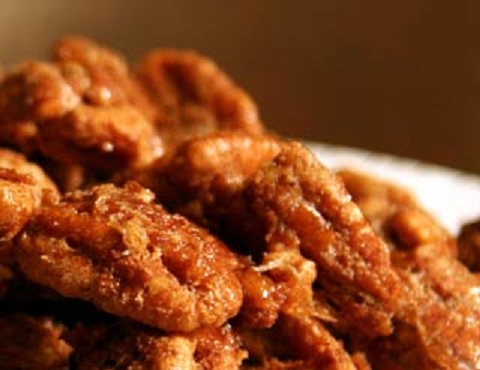 Microwave SUGAR GLAZED PECANS
1/2 c. butter
1 c. brown sugar
1 tsp. cinnamon
4 c. pecan halves
Place butter in 1 1/2 quart casserole in microwave. Melt (about 1 minute). Stir in brown sugar and cinnamon and microwave on high 2 minutes. Mix well to combine butter and sugar. Add pecans and mix to coat. Microwave on high 3 to 5 minutes. Spread out on wax paper to cool. Wonderful gift for friends or teachers stored in airtight jar or tin.
PECANS – SUGARED
1 egg white
4 cups (1 pound) pecan halves
1/4 cup sugar
1 Tbsp. cinnamon
Preheat oven to 300 degrees F. Slowly add the egg white to the pecans in a large mixing bowl, tumbling them gently until all the nuts glisten with the egg white. Mix the cinnamon and sugar well in a separate small cup. Dust the pecans with the cinnamon sugar, adding the sugar in several steps rather than all at one time, stirring well after each addition. Spread the coated nuts on an aluminum foil-lined 10×13 inch baking sheet. Bake 30 minutes (without turning). Remove from oven and allow to cool thoroughly before placing the nuts in a container which will seal tightly.