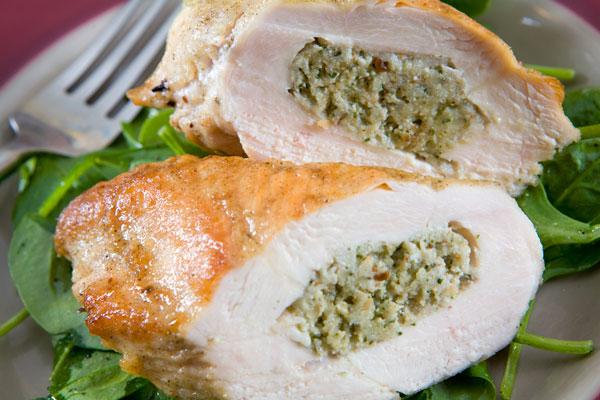 Maryland Crab Stuffed Chicken Breasts
6 skinned, boned chicken breast halves
1/4 tsp. salt
1/4 tsp. lemon pepper
3/4 c. finely chopped green onions
1/2 c. chopped celery
7 tbsp. butter, divided
1/2 lb. (8 oz.) fresh crab meat, drained and flaked
1/2 c. herb-seasoned stuffing mix
1/2 tsp. dry Italians seasoning
2 tbsp. all-purpose flour
1/2 tsp. paprika
Parsley sprigs
Lemon slices
Pimento slices
Red and green bell pepper slices
Preheat oven to 375 degrees. Pound chicken between wax paper to
tenderize and flatten. Sprinkle each chicken breast with salt and pepper.
Cook onion and celery in 4 tablespoons butter until tender. Remove from
heat, add wine, crab meat, stuffing mix and seasoning; toss. Divide the
mixture among breasts. Roll up and secure with toothpicks.
Combine flour and paprika; coat chicken. Place in buttered 11 3/4 x 7 1/2
x 1 3/4-inch baking dish or pan. Melt remaining 3 tablespoons butter;
drizzle over chicken. Bake, uncovered 1 hour. Transfer to platter. Remove
toothpicks.
SAUCE:
4 1/2 tbsp. butter
4 1/2 tbsp. all-purpose flour
1 c. 2% milk
1/2 c. Half and Half
1 tbsp. Worcestershire sauce
1/4 c. dry white wine
1/2 c. (2 oz.) shredded, fat free Mozzarella cheese
3/4 c. (3 oz.) shredded, fat reduced sharp Cheddar cheese
In medium saucepan over low heat, melt butter, add flour and blend. Stir in
milk and Half and Half, blending until thick. Add Worcestershire sauce,
wine, and Mozzarella and Cheddar cheeses. Stir until melted. Pour over
chicken breasts.