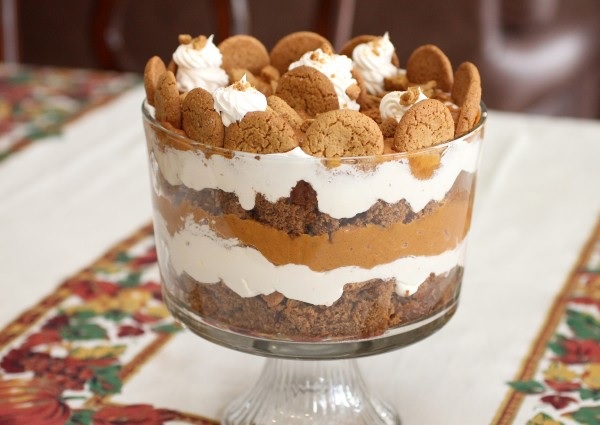 Holiday Pumpkin Gingerbread Trifle
submitted by http://www.cookingwithsugar.com
Prep Time: 1 hour
Start to Finish: 3 hours
Approximately 12 servings
Ingredients:
1 box (14.5 oz) Betty Crocker® gingerbread cake mix, baked according to directions on the box
1 (15 oz) can pumpkin puree (not pumpkin pie filling)
1 (14 oz) can sweetened condensed milk
1 (5.1 oz) package instant butterscotch pudding mix
1/4 cup milk
1 teaspoon pumpkin pie spice
1 teaspoon cinnamon
3 tablespoons brown sugar
1 (12 oz) container frozen whipped topping, thawed or homemade whipped cream
3/4 of a (10 oz) bag of ginger snap cookies or about 25 -30 cookies
In a medium sized mixing bowl, combine the pumpkin, sweetened condensed milk, butterscotch pudding mix, the milk, the spices and the brown sugar and whisk until mixture is smooth and thickens. (About 1- 2 minutes) Set mixture aside. Cut the gingerbread into 2-3 inch squares. Layer your trifle bowl or large clear glass bowl with half of the gingerbread. Then crumble 5-6 cookies over the gingerbread layer. Layer in about 1/2 of the whipped topping, then layer in half of the pumpkin topping. Repeat again with the gingerbread layer, a few crumbled cookies, the whipped topping and then ending with the pumpkin layer on top and a few crumbled cookies.   Cover with plastic wrap and refrigerate for at least and hour or two before serving.