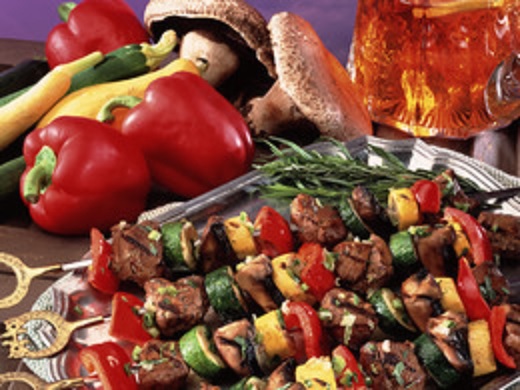 Grilled Turkey, Portobello and Vegetable Skewers
INGREDIENTS
1 1/2 Chopped Green Onions
1 cp Olive Oil
3/4 cp Balsamic Vinegar
2 tbsp Worcestershire Sauce
2 tbsp Minced Garlic
1 tbsp Dried Rosemary
1 tbsp Dried Tarragon
5 lb Turkey Thighs
6 sm Portobello Mushrooms
2 sm Red Bell Peppers
3 sm Yellow Squash
3 sm Zucchini
DIRECTIONS
1. Combine green onions, oil, vinegar, Worcestershire sauce, garlic, rosemary and tarragon.
2. Pour over turkey and mushrooms. Seal container and refrigerate 2 hours or overnight.
3. Prepare grill for direct heat cooking.
4. Drain turkey and mushrooms from marinade and discard marinade.
5. On 10 or 12-inch skewers, alternating ingredients, arrange drained turkey cubes, mushrooms, peppers,
yellow squash and zucchini.
6. Grill over medium flame or coals 10 to 12 minutes or until turkey is no longer pink in center, turning
once. Cook turkey to an internal temperature of 180°F.