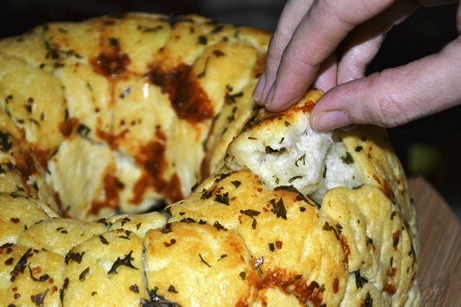 GARLIC PARMESAN PULL APART BREAD
1 can of refrigerated Grands biscuits
1/2 stick of butter
3 cloves of garlic, minced
1/2 cup grated Parmesan cheese
1 tsp Italian Seasoning
Preheat the oven to 350 degrees. Throw the cold 1/2 stick of butter in a bundt pan and let it melt in the preheating oven.
While the butter melts, cut the Grands biscuits into quarters. In a bowl, toss the biscuit pieces, garlic, Italian Seasoning, and Parmesan cheese together.
Once the butter is melted, add the biscuit mixture, sprinkle with any remaining cheese and garlic.l.
Bake at 350° for 20- 22 minutes until golden brown. Turn out onto a serving dish and enjoy!
From  www.amandathevirtuouswife.com