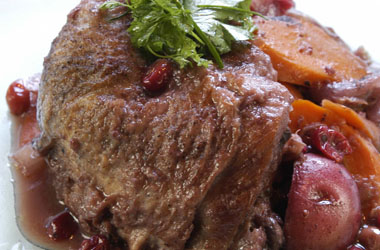 Cranberry Chicken Stew
Chef Tom Berry of "Bambara Restaurant"
Ingredients:
4 chicken legs, thighs attached
Salt and freshly ground black pepper
1 cup flour
1/2 cup canola oil
1 medium onion, cut in half and sliced 1/4-inch thick
2 carrots, peeled and sliced 1/4-inch thick
2 celery stalks, sliced 1/4-inch thick
1 1/2 pounds red bliss potatoes, washed and quartered
1 tablespoon chopped garlic
1 cup Ocean Spray® Fresh or Frozen Cranberries
1 1/2 cups Ocean Spray® Cranberry Juice Cocktail
1 1/2 cups dry red wine
1/2 cup white sugar
1/2 cinnamon stick
Directions:
Preheat oven to 325 degrees and an ovenproof skillet over medium heat. Season the chicken with salt and pepper on both sides, and thoroughly dredge in flour. Pour the canola oil in the preheated pan and sear the chicken legs on both sides until golden brown, about 3 minutes per side. Set the chicken aside and carefully pour off all but 1 tablespoon of the remaining oil. Return the skillet to the heat and add the onion, carrot, celery, potato, garlic and cranberries. Cook for 3 minutes. Add the cranberry juice cocktail, red wine, sugar, cinnamon stick and chicken legs to the pan and bring to a simmer.
Check for seasoning and add more salt if needed.
Remove from the stove and make sure the chicken legs are submerged in the liquid. Cover tightly with lid or foil
and bake in the oven for 1 ½ hours.
Remove from the oven and let rest covered for at least 15 minutes. Serve the chicken legs in bowls with the vegetables and broth. Serves 4.