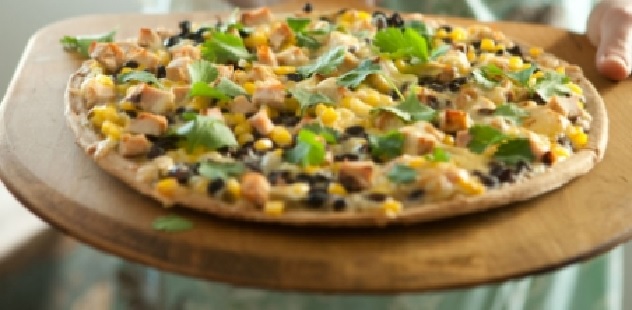 Chicken Taco Pizza
Ingredients: 
1 frozen whole wheat pizza crust, thawed
1/2 cup cup tomatillo salsa, plus more for serving
1/4 pound part-skim mozzarella, shredded, divided
1 cup no-salt-added black beans, rinsed and drained
1 cup frozen yellow corn, thawed
1 frozen boneless, skinless grilled chicken breast (such as Nature's Rancher brand), thawed and chopped
1/4 cup chopped fresh cilantro
Method:
Preheat oven to 425°F. Arrange crust on a pizza stone or large baking sheet. Spread salsa over crust and sprinkle with half of the cheese. Top with beans, corn, chicken and remaining cheese and bake until crust is crisp and cheese is bubbly, about 25 minutes. Sprinkle with cilantro, cut into 8 pieces and serve with more salsa on the side.