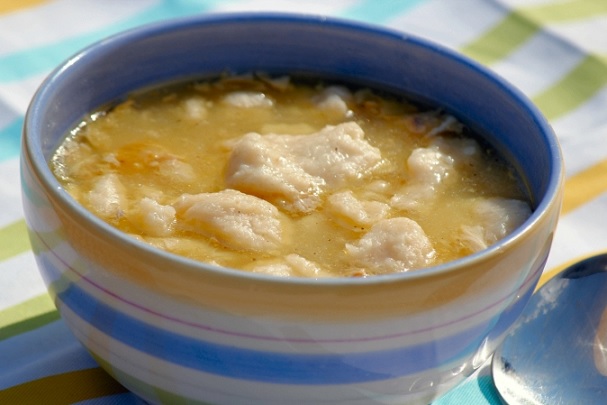 CHICKEN N' DUMPLINGS
2-3 chicken breast (with bone and skin)
water
1 stick of butter
3 cups self-rising flour
1 cup milk
1/2 cup vegetable oil
salt and pepper, to taste
Place chicken and butter in a Dutch oven and cover with water. Boil on
medium-high until chicken is done. Remove chicken, debone, and pull
apart. Return chicken to broth and set heat to medium.
Dumplings: Place flour in a large bowl and make a well in the middle. Add
milk and vegetable oil. Stir to make a firm dough. Knead dough a few
times until dough is no longer sticky. Add more flour, if necessary.
Roll out dough on a floured surface and cut into strips. Drop dough into
broth. Stir frequently. More water may be added to make a larger quantity
without diluting flavor. Add salt and pepper to taste.
Cook 10-15 minutes on low