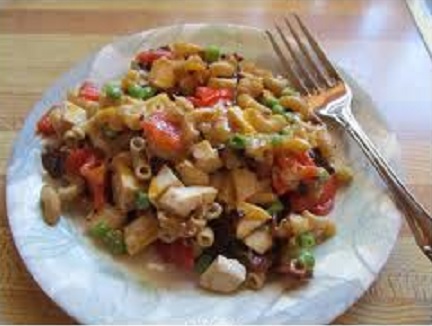 Chicken Caruso
4 cups chicken broth
8 ounces uncooked elbow macaroni or noodles of your choosing
2- 4 slices bacon, cut up
1/4 cup finely chopped red or green peppers
1/3 cup finely chopped onion
Sliced pimentos (1/4 cup chopped or cherry tomatoes can be added for color/ flavor if desired.
2 cups cooked and cut up chicken or turkey
2 cups shredded American cheese
1 pkg (10 ounce) frozen peas, cooked and well drained
In a large saucepan, heat broth to boiling.  Add macaroni and cook for 10 minutes or until tender.  Do NOT drain.
In a large skillet, fry bacon until crisp.  Add in pepper and onion.  Cook until tender.  Drain off excess fat.  Add macaroni / broth mixture and chicken/ turkey and all other ingredients.  Heat over medium flame until well heated and serve.