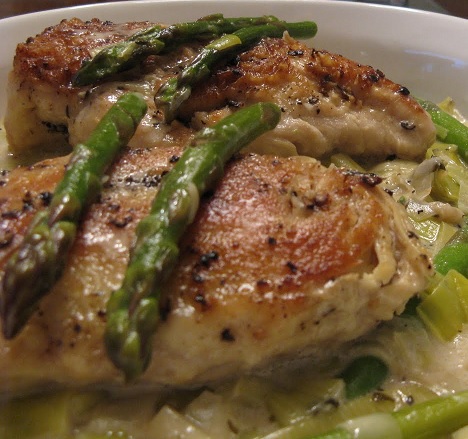 • 1 Package boneless and skinless chicken breasts
• Real butter or 1 Tablespoon butter + 3 or 4 T. olive oil
• Garlic powder
• 1 pkg. frozen or 1 bunch fresh asparagus
• 1 can cream of chicken soup
• 1/3 cup Mayo
• 1/2 lemon, juiced
• grated cheddar cheese or grated jack cheese
• Optional: 1/2 teaspoon curry, 1 teaspoon prepared mustard
Cook asparagus until limp. Cook chicken breasts in butter until slightly brown. Sprinkle with garlic powder.
Put asparagus in bottom of casserole dish. Place chicken on top. Pour sauce made of chicken soup, Mayo, lemon juice, and curry on top. Sprinkle grated cheese on top.
Bake covered 375 degrees for 30 minutes. Let set a little before serving.
BROCCOLI CAN BE USED INSTEAD OF ASPARAGUS