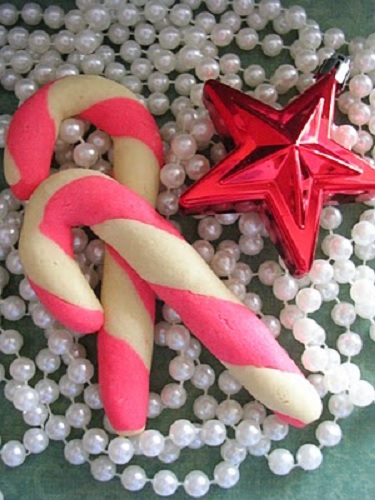 CANDY CANE COOKIES
Sweet red and white dough shaped into Candy Canes


1/2 cup real butter
1/2 cup shortening
1 cup sifted powdered sugar
1 egg
1 1/2 teaspoon almond extract
1 teaspoon vanilla
2 1/2 cups sifted gold medal flour
1 teaspoon salt
1/2 teaspoon (or whatever it takes) red food coloring for one batch
I make 2 separate batches of the above, one I leave white, the other one gets colored red.
Mix well the shortening, butter, sugar, egg, almond and vanilla extracts.  Mix flour with salt and stir in. Leave one batch white. Make another batch and color it red. You can then wrap each batch in plastic wrap and store in refrigerator until ready to bake or bake now.
Heat oven to 375 degrees (quick moderate). Roll about 1 teaspoon of each color dough on lightly floured board (or wax paper or plastic wrap. I start rolling them in my hands then finish on the borad) into a strip about 4 inches long. Place strips side by side, press lightly together and carefully twist like a rope. Put on ungreased cookie sheet. Curve the top down for the handle of candy cane. Bake 9 minutes or until lightly brown. Remove and while still warm sprinkle with red or green holiday sugar sprinkles or if you like peppermint, mix 1/2 cup of crushed peppermint stick candy with 1/2 cup sugar. Makes about 4 dozen.
Tips:  Make complete cookies one at a time.  If all the dough of one color is shaped first, the little rolls become too dry to twist. You don't have to put any sprinkles on top.