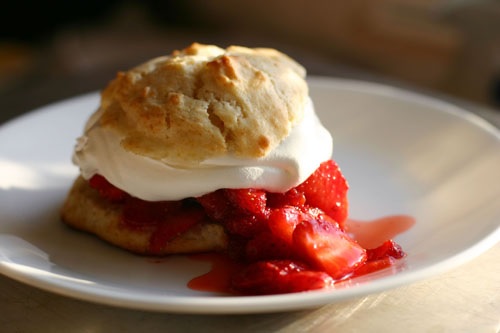 Strawberry Shortcake with Whipped Cream!
2 1/4 cup of Bisquick mix
2/3 cup of Dairy Maid Dairy Whole Milk
Heat oven to 450º.
Stir ingredients until soft dough forms. Turn onto surface dusted with Bisquick mix.
Knead 10 times. Roll dough 1/2 inch thick. Cut with 2 1/2-inch cutter.
Place on ungreased cookie sheet. Bake 8 to 10 minutes or until golden brown.
 When cool, slice in half and fill with sliced strawberries and whipped cream.
How to Make Whipped Cream
8 oz of Dairy Maid Dairy Heavy Cream
½ teaspoon of Vanilla Extract
2 Tablespoons confectionery sugar (adjust extract and sugar if desired)
Whip for about 5 minutes
Note: It helps to chill the beaters & the bowl prior to making whipped cream